Click each procedure to expand for more information.
Dentures are removable appliances that can replace missing teeth and help restore your smile. If you've lost all of your natural teeth, whether from gum disease, tooth decay or injury, replacing missing teeth will benefit your appearance and your health. That's because dentures make it easier to eat and speak better than you could without teeth.
Dentures should be brushed daily to remove food particles and plaque just as you wood with real teeth.  
Rinse dentures before brushing to remove any loose food or debris. 
Use a soft bristle toothbrush and a non-abrasive cleanser to gently brush all the surfaces of the dentures to prolong the life of the product.
When brushing, clean your mouth thoroughly—including your gums, cheeks, roof of your mouth and tongue to remove any plaque. This can help reduce the risk of oral irritation and bad breath.
Put dentures in a safe place covered in water to keep them from warping when not wearing the device.
Adhesives are often used to secure certain dentures and come in many forms such as creams, powders, pads/wafers, strips or liquids. Your dentist can recommend appropriate cleansers and adhesives; look for products with the ADA Seal of Acceptance.
Wisdom teeth are the last permanent teeth to appear  in the mouth. These teeth usually appear between the ages of 17 and 25. Some people never develop wisdom teeth. For others, wisdom teeth erupt normally — just as their other molars did — and cause no problems.
Many people develop impacted wisdom teeth that don't have enough room to erupt into the mouth or develop normally. Impacted wisdom teeth may erupt only partially or not at all.
An impacted wisdom tooth may:
Grow at an angle toward the next tooth 
Grow at an angle toward the back of the mouth
Grow at a right angle to the other teeth.
Grow straight up or down like other teeth but stay trapped within the jawbone
Wisdom Teeth issues:
You'll likely need your impacted wisdom tooth pulled if it results in problems including:
Pain
Trapping food and debris behind the wisdom tooth
Infection or gum disease (periodontal disease)
Tooth decay in a partially erupted wisdom tooth
Damage to a nearby tooth or surrounding bone
Development of a fluid-filled sac (cyst) around the wisdom tooth
Complications with orthodontic treatments to straighten other teeth
A dental crown is a tooth-shaped "cap" that is placed over a tooth — to cover the tooth to restore its shape and size, strength, and improve its appearance.
The crowns, when cemented into place, fully encase the entire visible portion of a tooth that lies at and above the gum line.
Different kinds of materials can be used in crowns, including:
porcelain
ceramic
zirconia
metal
composite resin
a combination of materials
If you have a large cavity that's too big for a filling, it may be time for a crown.
You may also need a crown if your tooth is:
severely worn down
cracked
weakened
Crowns are also recommended following a root canal on a tooth, because the tooth is more fragile and needs protection.
You may also be a candidate for a crown if you have a missing tooth, and the dentist needs to put in a dental bridge or a tooth implant.
A dental bridge can replace a tooth or several teeth. The teeth in dental bridges look and function like real teeth.
There are many options for filling a gap in a smile.
The term "bridge" refers to a structure that contains one or more artificial or synthetic teeth. The structure is often anchored in place with one or more crowns on either side of the gap in the mouth. For example, if a person loses several front teeth, due to injury or decay, a doctor may use a bridge to fill in the gap.
Think of dental implants as artificial tooth roots, similar in shape to screws. When dental implants are placed in your jawbone, they fuse and bond with your natural bone. They become a solid base for supporting one or more artificial or synthetic teeth, referred to as crowns.
A connector known as an abutment is placed on top of the dental implant to hold and support the crowns. The crowns are custom-made to match your natural teeth and fit your mouth aesthetically
Modern dental implants have been used successfully for over 30 years. They are the strongest devices available to support replacement teeth & they allow these new teeth to feel, look and function naturally.
Diagnosing TMJ
Your doctor or dentist will discuss your symptoms and examine your jaw. Your West LA Dentist will thoroughly exam you and discuss your issues as follows:
Listen to and feel your jaw when you open and close your mouth. This is to feel or hear any popping or grinding within the jaw
The Dentist will them observe the range of motion in your jaw
The examination will involve pressing on or around areas of your jaw to identify sites of pain or discomfort
If your dentist suspects a problem, you may need:
Dental X-rays to examine your teeth and jaw
CT scan to provide detailed images of the bones involved in the joint
MRI to reveal problems with the joint's disk or surrounding soft tissue
TMJ arthroscopy is sometimes used in the diagnosis of a TMJ disorder. During TMJ arthroscopy, your doctor inserts a small thin tube (cannula) into the joint space, and a small camera (arthroscope) is then inserted to view the area and to help determine a diagnosis. This is usually only needed in cases where a proper diagnosis can't be made with standard examination procedures described above.
Metal/Traditional braces
These are the metal brackets and wires that most people picture when they hear the word "braces." However, modern brackets are smaller and less noticeable than the notorious "metal-mouth" braces that many adults remember.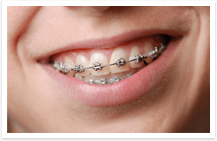 Pros: Least expensive type; colored bands give kids a chance to express themselves
Cons: Most noticeable type of braces
Invisalign
Invisalign consists of a series of 18 to 30 custom-made, mouth guard-like clear plastic aligners. The aligners are removable and are replaced every 2 weeks.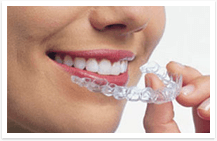 Pros: Almost invisible; Patients can eat and drink whatever they want
Cons: Will not work for serious dental problems; only available for adults and teens, not children; more expensive option; can be easily lost and costly to replace; treatment may potentially take longer.
Ceramic Braces
Ceramic braces are the same size and shape as metal braces, except that they have tooth-colored or clear brackets that blend in to teeth. Some even use tooth-colored wires to be even less noticeable.
Pros: Less noticeable than metal braces; move teeth much faster than clear plastic aligners (Invisalign)
Cons: More expensive than metal braces; Brackets can stain easily if patients don't care for them well
Lingual Braces
Lingual braces are the same as traditional metal braces, except that the brackets and wires are placed on the inside of teeth.